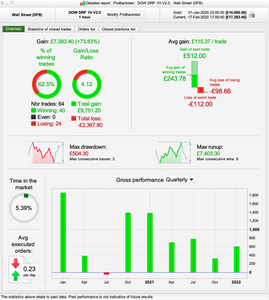 Algo or (BOT) is built to provide signals and sell the DOW index.  The BOT has to be installed on a 1-Hour chart and comes with installation instructions.
The results illustrated are from a £1 stake.
Risk v Reward - It depends on your risk appetite.  The BOT is set with a 1.12% risk profile as the default and would not advise anything more significant than a 2.25% risk.  However, it is up to the user to decide whether to use the default 1.12% risk profile or change this.
Backtest results based on Jan 2020 to date.
The BOT runs on the UK GMT timeframe
Note:  The BOT has to be installed in the UK time zone (Europe/London)
HARKO Day Trading Disclaimer
The information contained in this programme is under continual development and enhancement, HARKO day trading endeavours to keep the information up to date and correct, we make no representations or warranties of any kind, express or implied, about the completeness, accuracy, reliability, suitability or availability with respect to this BOT. Any reliance you place on such information is therefore strictly at your own risk.
In no event shall HARKO day trading be liable for any loss or damage including without limitation, indirect or consequential loss or damage, or any loss or damage whatsoever arising from loss of data or profits arising out of, or in connection with, the use of this BOT.
Pas satisfait
Depuis l'achat, 1 seul tracé gagnant et 4 perdant........
Performs well
With market reversals due to the European conflict, his bot performs exceptionally well. Thank you. I hope the performance continues.
On fire
Thanks, recently got this and its on-fire - cheers.